Come and see our biscuits …
Discover each step of our production :
Kneading, dough shaping, cooking, and packaging.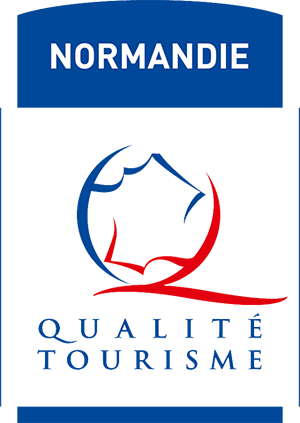 Guided tour and free tasting (duration: 1 hour).
Individuals and groups only on reservation. Information and booking with Mathilde: +33 (0)2 33 30 64 64 or patricia.muratet@biscuiterie-abbaye.com Biscuiterie de l'Abbaye – Route du Val – 61700 Lonlay l'Abbaye
Visitors are provided with a blouse and a headdress (a locker-room is at the disposal of the visitors). Jewelery is strictly forbidden during the visit (except for wedding rings), for reasons of hygiene and safety, and in accordance with the requirements of the personnel working in production. Please wear clean closed shoes
Strong heat during the summer. Pets are not allowed in the property.
Factory outlet in Lonlay l'Abbay
STORE OPEN ALL YEAR FROM MONDAY TO FRIDAY: 8:30 am to 12 noon and 1:30 pm to 5:30 pm (except holidays). New timetables from April 1st to September 30th: 9am to 12.30pm and 2pm to 6pm.
SAMEDIS GOURMANDS: every 1st Saturday of each month (except in January and August), biscuits sold in batch (decommissioned products), at exceptional prices (9h-12h) .For more information about the factory store, call +33 (0)2 33 30 64 74.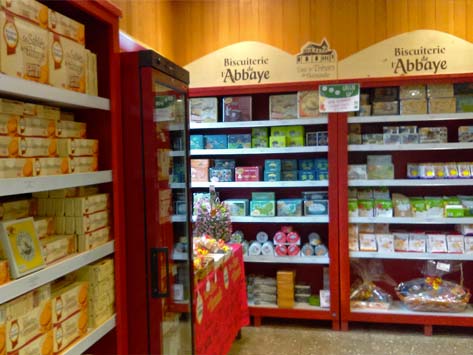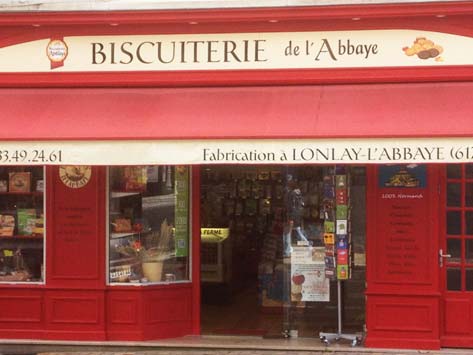 Shop in Granville
Open since the spring of 2014, this shop offers you different ranges of biscuits of the company as well as regional products.
Located on rue Georges Clémenceau (50400 Granville), the shop is open from Monday to Saturday from 10 am to 12:30 pm and from 2:30 pm to 7:30 pm. Open continuously on Saturdays and from 3pm to 7.30pm on Sundays.
Shop in Bagnoles de l'Orne
In a modern and warm decor, you will find the specialties that make the company famous: the Sablés de l'Abbaye, the Trouvillais, the Chocoladises, … as well as many regional products such as jams, Cidricoles, caramel, chocolates, gingerbread …
Located in the Rue des Casinos (61140 Bagnoles de l'Orne),the shop is open every day from 10 am to 1 pm and from 2 pm to 7 pm, from March to October. In November and December: open every day to Sunday, from 10am to 1pm and from 2pm to 6pm. In January and February: open from Friday to Sunday, from 10am to 1pm and from 2pm to 6pm.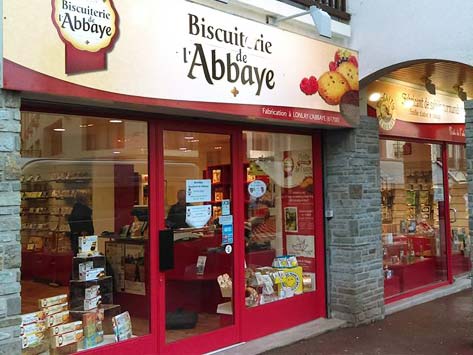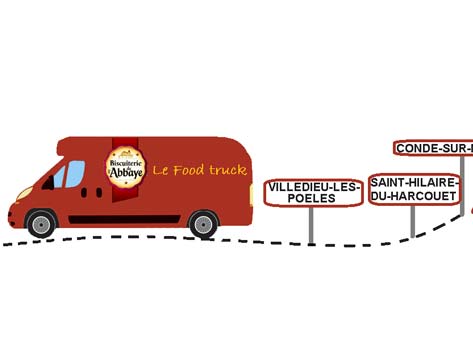 Le Food-Truck
– L'Aigle on Tuesday;
– Saint-Hilaire-du-Harcouet on Wednesday;
– Condé-sur-Noireau on Thursday;
– Vire on Friday;
– Bernay on Saturday;
– And Trouville / Deauville on Sunday!